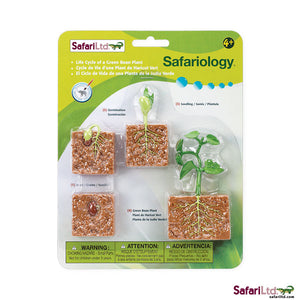 Tickle Your Senses
Life Cycle of A Green Bean Plant
Regular price
$16.90
$0.00
Unit price
per
Looking for lead-free & safety tested products to teach your children abt Life cycles of insects and plants? Look no further than the realistic and detailed products of the Safariology® Life Cycles.
Teach your child about how a green bean seed germinates, develop roots, and finally sprouts, with this set of Life Cycle of a Green Bean. Reinforce the learning when you pair this set with the growth of real green beans in some moist cotton wool in a small container. Get your child to measure the height of their plant daily to get the involved. Help them to see how scientific concepts can come alive before their eyes. 
Using manipulatives that children can squeeze, touch, and play with can them concretise abstract concepts like growth and germination. Ignite that spark of curiosity today! 
NOTE: Grown Green Bean Plant Measures: 3.5" H (9 cm) 
---