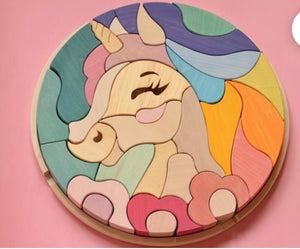 Skandico
Rainbow Unicorn Puzzle *New in 2021*
Regular price
$199.92
Sale price
$249.90
Unit price
per
This amazingly beautiful unicorn puzzle consists of many rounded pieces and unique shapes: beyond cylinders, triangles and cubes!  Perfect for anyone from the age of 1 to 99! Total no. of pieces: 35

Every piece is made by hand from the beautiful Russian linden. It has rounded edges & is covered with eco-friendly waterbased RAINBOW pop of colors that are so vibrant & bright like candy! 

Children can see, touch and feel beautiful, velvety warm texture of the natural wood from this set. An impressive construction blocks set, this will surely help every child to increase his/her imagination, balance skills, motor skills of his hands, creativity, sense of beauty.

The round bass tray of this set comes with clear outlines on the wooden board for you to easily figure out which pieces go where in order for the whole puzzle to be easily stored away!

🌿 Full size of The Unicorn Puzzle (easily stored in the round wooden storage base.
🌿Diameter of the puzzle is 38 cm, it's thickness is 3 cm.
🌿 Material : Linden wood, colored with eco-friendly colors
🌿 Made in Russia with love and soul
---