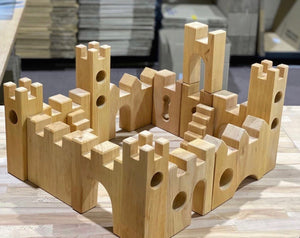 Tickle Your Senses
Bauspiel Knight's Castle Set with extension pieces (16 pieces)*
Regular price
$224.00
Sale price
$280.00
Unit price
per
This Knight's Castle set with extension pieces is made from oiled Alder. It comes in beautiful, large and chunky pieces for children to create any castle configuration they can imagine.

There are different shaped blocks, which includes turrets and staircases. Each castle block piece is at least 2.5cm thick, giving it amazing strength and stability for play. Pieces range in height from 15 to 25cm. 
This Knight's Castle with extension comes in 16 pieces: 
Two towers: 25 x 6 x 6 cm
Two towers: 21 x 6 x 6 cm
1 Tower/Arch : 16 x 15 x 4.5 cm
1 Tower/Arch with window: 15 x 15 x 4.5 cm
2 flights of stairs: 9 x 12 x 4.5 cm
2 walls: 15 x 15 x 4.5 cm
6 more extension pieces !!
This set will surely offer many hours of open-ended imaginative play!
---