• baby • Christmas • Christmas gifts for babies • gifts • sensory play • singapore • stackers • teether • teethers • toys
All around our streets are decked out in beautiful lights and ornaments and we cannot escape the cheery jingles that float through the speakers in the shopping malls. It is that time of the year again, where Christmas cheer fills the streets and we are left stressing about what to get for the little ones in our lives. Another toy? More clothes they will outgrow? If that's you, fret not! Here at TYS, we have compiled a list of age-sorted gifts that we are sure to bring Christmas cheer! Our first list is compiled specially for the littles who are...
---
• birds • local heritage collection • singapore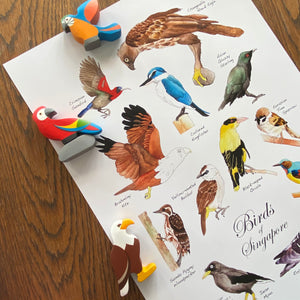 There is so much in sunny Singapore that is unique to our culture and heritage. We also have a lovely range of wildlife, flora and fauna in our tropical garden city. As advocates of play, we encourage our children to head outdoors as much as possible to experience and enjoy nature. We hope you create opportunities to do so too as the year-end school holidays draw near. This October, we're honoured to have Chair-ish the Moments share their Local Birds of Singapore poster and postcards in our Local Heritage Collection! This Local Birds series is Chair-ish the Moments' first print venture and features 12 birds hand-painted by...