• Edx Education • Maths101 • Q&A • store news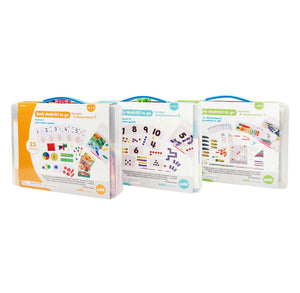 Say Hello to Edx Education's Maths to GO Collection! We were so excited to be invited to launch these thoughtfully-designed Maths kits that will aid your child in home learning through play! The learning materials are colourful, engaging, and can be used in so many different ways as your child learns number sense, geometry and logical thinking through playing and bonding together with these interactive and tactile resources. Early Math101 to go is designed for children aged 3-6. In these preschool years, fundamental skills and concepts are learnt and these foundational concepts carry them through to primary school and beyond. Edx Education's...
---
Whew! Our Christmas Shop is now closed and we and our elves are off for our annual break to soak in the festive season with loved ones. Our online shop will re-open on 7 Jan. You may still put in your orders and they will be processed in January 2018.  If you need gifts urgently, you can pick up our products in-store at The Playfair at Marina Square or Liliewoods and Friends at Katong I12.  Thank you so much for your patience and support as we worked hard the past 2 months to bring you the best sensory play materials...
---
• pop-up • small world play • store news
If you are in Eastie in Singapore, come by to Liliewoods & Friends at Katong I12 #01-24! This is a Christmas Pop-Up and we are showcasing our Small World Play Series! We've packed everything from fillers to figurines to scoopers so you have an All-in-One pack to start playing right away!  You can choose from the following Small World Play Packs currently available in-store: Arctic Small World Play - Make your own instant snow! Farm Small World Play - Old Macdonald's Farm is always a favourite with the kids Train Small World Play - Chug along with trains and carriages Construction Small...
---
Hello there! Welcome to Tickle Your Sense's New Home! When we opened our doors in the online world in September 2015 and slowly shared our passion for learning through play, we were still learning the ropes of managing an online business. Fast foward to October 2017, just a little over 2 years later, we have decided to create a platform that can serve you better!  We hope you like this new home. Let us know what you think in the comments below! We'd love to hear from you.  We have NEW and exciting things happening soon...so watch our Christmas Launch on...